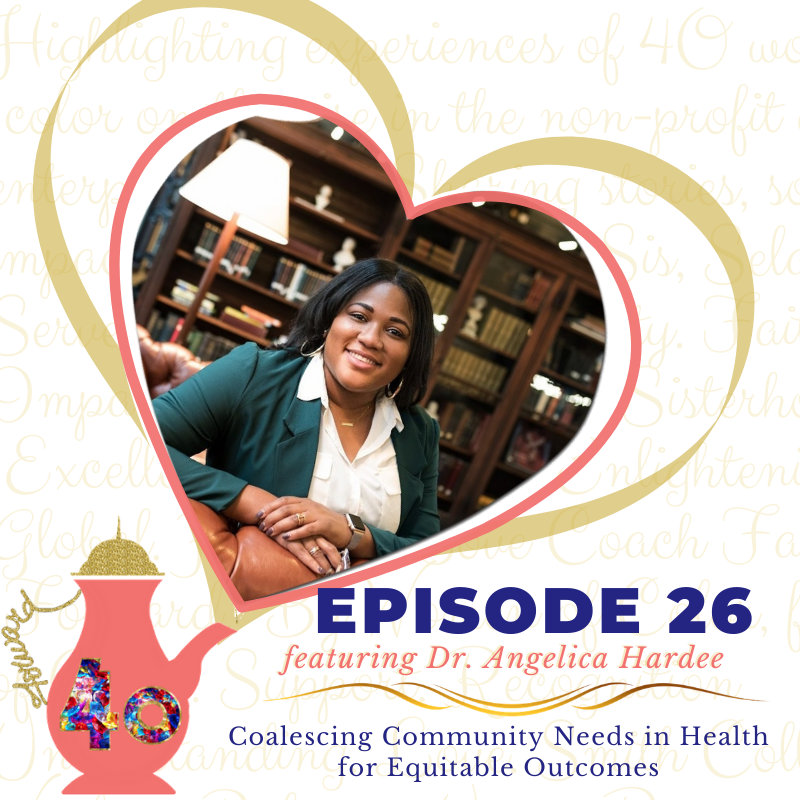 Dr. Angelica Hardee (affectionately known as Dr.gelz) is a native of Cleveland, Ohio. She currently leads strategy and advocacy as the VP of Health Strategies at the American Heart Association and also the President of the National Urban League Young Professionals of Greater Southwest Ohio. Dr. Hardee is a three-time alumna of the University of Cincinnati (UC) where she received her Bachelors, Masters and Doctorate in Public Health. At UC Dr. Hardee's studies focused on global health systems and health policy. Dr. Hardee's dissertation was related to malaria control methods among pregnant women in the Democratic Republic of the Congo. Her research internationally addressed the needs amongst the world's most vulnerable populations. In addition, she established health promotion and education programs while teaching and mentoring students interested in public health.
​
Dr. Hardee attributes her dedication and passion for public health associated with her love for volunteering. Working everywhere from local classrooms at the University of Cincinnati to small communities in developing nations, she wants to be a part of eliminating health disparities. Dr. Hardee recently co-founded Let's Change Our City, a community initiative in Cincinnati, Ohio. Within the organization students from neighboring universities are able to engage with community partners and refer patients to essential social services addressing both communicable and non-communicable diseases. Dr. Hardee always knew her future was in healthcare, but not as a medical doctor. Rather her passion for public health can help to inspire change of health outcomes.
​
Currently Dr. Hardee lives in Cincinnati, Ohio and works in the nonprofit sector focused on population health. In her current role she works with health systems and community agencies to address and navigate health related social needs. In addition to her primary role Dr. Hardee works with public health organizations to implement policies to improve health in Ohio. She also mentors youth and tutors high school students on ACT & SAT preparation while mentoring college students and young professionals navigating the public health field.
In this episode, Dr. Hardee brings joy and equity to the center of community health. She reflects on her shift from international research to leading public health strategies locally in her home state. She also shares the misconception that women need to have said education credentials to have a seat at the table and lead systems change. Reflecting on an article written by Dr. Danielle Moss on Black women in the nonprofit sector, Dr. Hardee furthers the need to center race and race politics within the sector's operations internally and externally. We are in agreement that when we aren't empowered enough to advocate for ourselves, we set generations at a disadvantage. Her work with Cradle Cincinnati amplifies the significance of centering race to health outcomes of Black mothers and their babies. Additionally we explore her insights on what a younger generation of Black professionals desire in the moment of racial justice reckoning: alongside our elders and in predominantly White spaces. Dr. Hardee makes clear the diligence needed in public health and the nonprofit sector at large in valuing the treasures and assets within the community. 
****References to Dr. Danielle Moss's article Black Women in Nonprofits Matter  appear in this episode.
We celebrate our time, talent and treasures as we are also reminded that our voices matter in the sector as we share Forward 4O's platform with this phenomenal WOC in the nonprofit and social enterprise sector.
Stay connected with Dr. Hardee on LinkedIn Instagram and Twitter. You can also delve more into her journey on her personal website. 
Follow Forward 40(4tea) on IG and Twitter @forward4tea. Continue to support and nominate a guest to be on the show. You can also learn more about the host Coach Faith here.