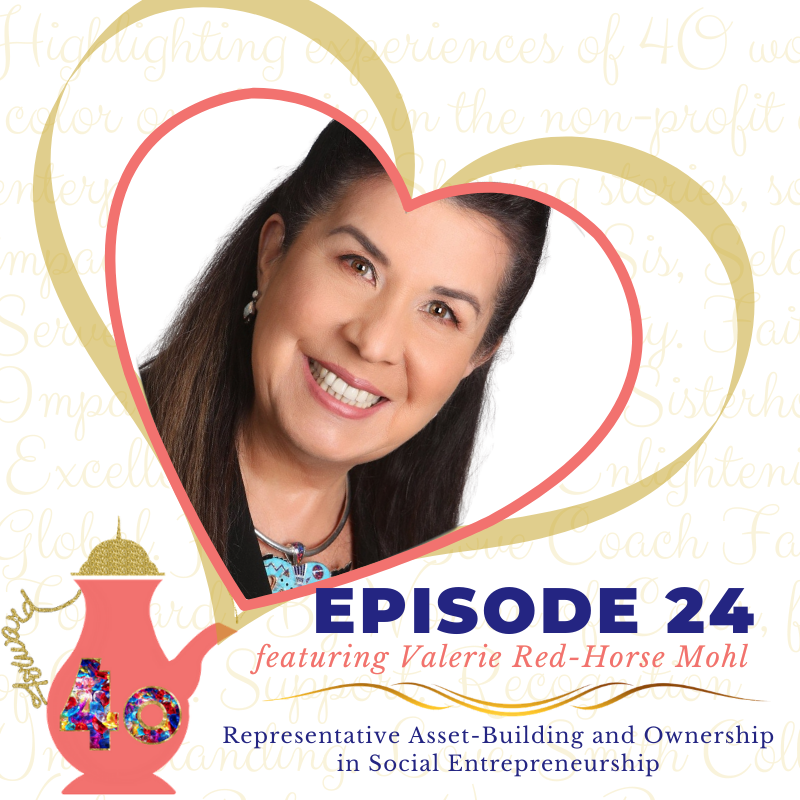 Valerie Red-Horse Mohl, of Cherokee ancestry, is the Executive Director/CEO of Social Venture Circle, a nonprofit leading the way in the field of social impact; building and galvanizing the business world to create social, economic, and environmental change. She is also the owner/founder of Red-Horse Native Productions, Inc., a film and television production company primarily focused on bringing important documentaries to the screen for which Red-Horse Mohl directs, produces, and writes. Additionally, she is the owner/founder of Red-Horse Financial Group, Inc., and has more than 30 years of in-depth experience in the financial services and investment banking industry with a unique expertise in the Native American tribal government sector. Red-Horse Mohl has raised, structured and managed over $3 billion in capital for tribal nations and holds seven FINRA registrations.
Valerie was inducted into the NAWBO (National Association of Women Business Owners) Hall of Fame in 2008. She was recently appointed to the Board of Stanford University's Center for the Comparative Study of Race and Ethnicity and is teaching a Stanford course on Entrepreneurship for Race and Social Equity. She also serves as a Board Member for the Northern California Chapter of the International Women's Forum and the National Boys and Girls Clubs Native American Division. Valerie earned a B.A. with Cum Laude honors from UCLA and has founded several nonprofit ministries on reservations nationwide.
In this episode, Valerie shares what inspired her to serve her own community and advocate on behalf of other underserved communities of color. With the trillions of dollars that are leveraged in business, Valerie has been able to use her positional power to advocate peers and the next-generation alike to start their own ventures. Reflecting on the economic fallout and recovery efforts post-COVID 19, she shares what she believes is necessary for equitable capital ownership and deployment. We also learn what she is hearing from the next generation of social entrepreneurs and how they are hoping to shift the broken system of our economy. Valerie also offers up the principles of community and spirituality that she centers often in her work and extends her hopes of us doing the same.
We activate our power to create, own and leverage our innate assets as we share Forward 4O's platform with this phenomenal WOC in the nonprofit and social enterprise sector.
Stay connected with Valerie on LinkedIn and Twitter. Look into her Top 5 recommendations for equitable social impact work here:
Follow Forward 40(4tea) on IG and Twitter @forward4tea. Continue to support and nominate a guest to be on the show. You can also learn more about the host Coach Faith here.